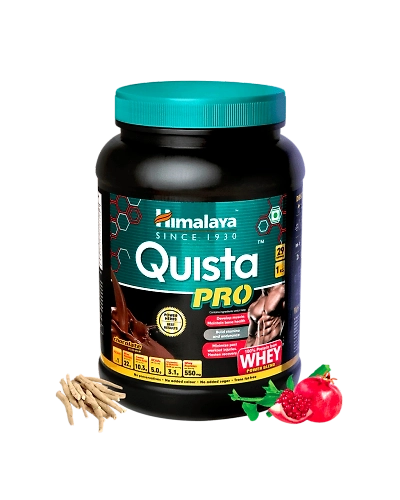 Himalaya Brand - Quista Pro Advanced Whey Protein Powder - 1kg (Chocolate)
Write a Review
This is a Vegetarian product.
Quista Pro contains 3 whey protein blend, concentrate, isolate and hydrolysate for faster absorption
Fortified with peptides and taurine which minimize post injury workout and hasten recovery
Enriched with herbal actives which develops bone health, build stamina and endurance
Fortified with calcium and vitamins for better bone health
Enriched with BCAA which improves exercise performance
Faster recovery from muscle injury. Contains sucralose. Not recommended for children. No sugar (sucrose) added in the product.
Additional Information

Advanced Whey Formula for Next Level Results

Himalaya Quista PRO, a first-of-its-kind whey protein packed with naturally rich amino acids (BCAA) that metabolize directly in the muscles.

KEY INGREDIENTS

Ashvagandha

it helps build muscle mass, also improves muscular strength and helps overcome fatigue.

Hadjod

A herb for bone and joint health, It also promotes the recovery of injured connective tissue and relieves joint pain.

Pomegranate

Helps reducing muscle soreness, & speeds up post-workout recovery.

Taurine

Taurine aids faster muscle recovery and reduces post-workout injury.

Vitamin B Complex

B1, B6, pantothenic acid helps in energy production.

Vitamin C

Vitamin C helps maintain cellular integrity and overall metabolism.

Vitamin E

Helps to maintain cellular integrity and overall metabolism.

Directions to Use

Fitness Enthusiasts:

Add 1 heaped tablespoon (approximately 20 g) of Quista PRO to 200 ml milk, stir briskly until mixed well.

Gym-goers and athletes:

Add 1 scoop (34 g) to 180 ml chilled water and stir briskly until mixed well. Alternatively, pour 180 ml water into a shaker that contains 34 g (1 scoop) of Quista PRO. Cover and shake vigorously for 20-25 seconds for a rich and chocolaty protein drink.