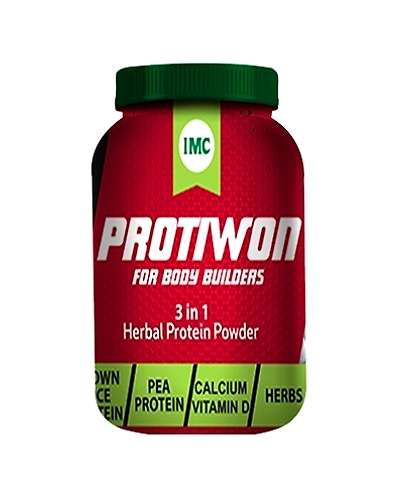 HERBAL PROTIWON FOR BODY BUILDERS (1KG)
Write a Review
It Helps To Achieve Required Protein Contents, Fiber And Nutrients, Which Are Ideal For Body Builders, Athletes And Weight Lifters.
It Has The Highest Biological Value And Contains Essential Amino Acids. Its Antioxidant Properties Neutralize Free Radicals.
It Helps Increase Muscular Pumping. It Also Helps Boost Male Hormones And Testosterone Level.
It Helps Reduce And Recover Cramps After Workout. It Also Helps Reduce Cholesterol In Blood Stream.
Additional Information

SHILAJEET EXTRACT - It Is Termed As An Energy Production Powerhouse. It Supports Endurance And Strength.

BROWN RICE PROTEIN ISOLATE - It Is A Superb Source Of Amino Acids. It Tends To Cause Fewer Allergic Reactions Than Many Other Protein Sources. It's Easily Digested.

WHEY PROTEIN ISOLATE - It Is Quite Popular In Athletes And Bodybuilders. It Promotes Muscles. It Provides Protein And Amino Acids Which Serve As Building Blocks For Muscle Growth.

PEA PROTEIN ISOLATE - It Is High In Arginine, An Amino Acid Known To Help Build Muscles, Improve Blood Circulation. It's Easier To Digest And Helps To Maintain A Healthy Weight.